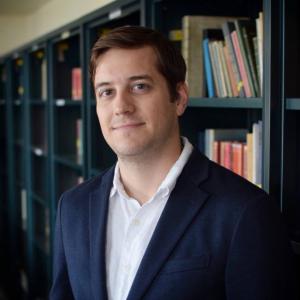 Assistant Professor
East Asian Languages & Cultural Studies
Specialization
:
Languages: Classical and Modern Chinese
Specialization: Literary translation, history of religious translation
Education
:
Ph.D., East Asian Studies, Princeton University
M.A., Comparative Literature, University of Colorado, Boulder
B.A., Chinese and English Literature, Calvin College
Bio
:
Thomas Mazanec (余泰明) researches the interactions between literature and religion in medieval China (third through tenth centuries), as well as their dialogue with other cultures. From multiple angles, his work undermines the uniqueness of mainstream Chinese literati culture, highlighting instead its porous boundaries and its productive interplay with other discursive traditions. He is also interested in world literature, poetics, digital humanities, and translation studies. He is especially fond of the art of literary translation and maintains a collection of bizarre and obscure translations of classical Chinese poetry into English.
He is currently revising the manuscript of his first book, tentatively titled The Invention of Chinese Buddhist Poetry, which explores the formation of a tradition of "poet-monks" during the waning years of the Tang dynasty, and the ways in which these monks sought to equate poetic and religious practice in their verses. His next project will be on the genres and practices which lie on the borderlines of "poetry" in early and medieval China.
Publications
:
"The Medieval Chinese Gāthā and Its Relationship to Poetry." T'oung Pao 103.1–3 (2017): 94–154.
"Guanxiu's 'Mountain-Dwelling Poems': A Translation." Tang Studies 4.1 (2016): 99–124.
"Jiǎ Dǎo's Rhythm, or, How to Translate the Tones of Classical Chinese." Journal of Oriental Studies 49.1 (2016): 27–48.
Courses
:
Chinese 101A: Introduction to Classical Chinese
Comparative Literature 139 / Chinese 139: China in Translation: Theory, Art, History
Comparative Literature 165 / EALCS 165: East Asian Buddhist Poetry